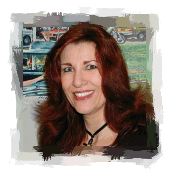 Claudia started life out as a Canadian. She has had many glamorous years as a runway, print and TV model. After retiring from the crazy world of modeling she decided the relaxing pace of the record biz was "just the thing".
Claudia managed LA based Studio 56 for ten years. While there she became well versed on the subtle intricacies of record making. She has always been fascinated with the final and most important stage of making a record, the mastering process. Claudia actively manages Ron Boustead and Don Tyler's mastering schedules. Claudia is a great time juggler, always managing to get projects out the door with plenty of time to spare.
Claudia's energy level is a match for the general high pitched buzz of our biz. She has every kitchen gadget ever made, but finds there is no time to cook. You can find her rollerblading the Venice Boardwalk or skiing Big Bear where she has a relaxing vacation home.
For information and booking:
Claudia Lagan
P) 323 464-1008
F) 323 464-4579
email: claudia@precisionmastering.com
ron@precisionmastering.com